A year after leaving office, former Taita Taveta Governor Granton Samboja faces questions after reports revealed some serious financial mismanagement issues during his tenure in office. Mr Samboja lost the governorship to former Mwatate MP Andrew Mwadime, who garnered 49,901 votes against Samboja's 23,703. Former governor John Mruttu (UDA) finished third with 13,865 votes, while former senator Dan Mwazo (Wiper) got 11,543 votes in the fourth position.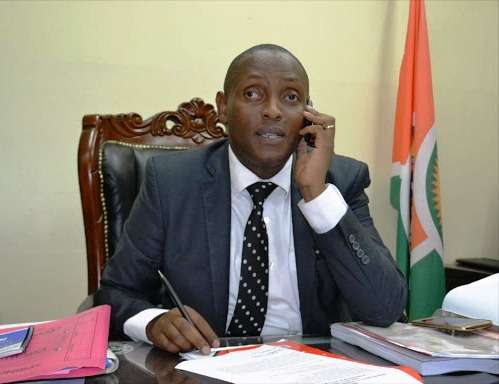 Despite having taken a sabbatical leave from active politics, Mr Samboja's mismanagements during his time in office have come under scrutiny. Reports indicate that the former governor approved the payment of Ksh. 1.5 million to a hospital on August 20, 2021, for the medical bill of a member of the Taita Taveta County Assembly, no explanation was provided as to why the bill was met by the County executive yet the beneficiary was not an employee of the executive.
Also under investigation is a payment of Ksh. 182,400,000 for salaries to 240 new staff recruits as per the county's supplementary estimates II after 546 new staff were recruited, increasing the annual wage bill of Ksh. 250,696,498, which was more than the allocated amount. Further review of recruitment files revealed that a request for the hiring of new staff was made without prior planning and approval as required by the County Human Resources Management Policy and Manual, Section B.2(2).
Also under investigation is a claim that the positions of County Chief Officer—Finance and Economic Planning (Job Group 'S') and County Chief Officer, Public Works, Housing, Roads, Transport, and Infrastructure (Job Group 'S') were vacant, and two directors performed the roles in acting capacities with effect from November 25, 2020, and 24 February 2022, respectively. However, the essential documents for acting appointment, which include a draft indent for the advertisement of the vacant post and a seniority list of officers, including accounts of their performance, were not forwarded to the County Public Service Board as required before the appointments.
In addition, the Acting County Chief Officer of Finance and Economic Planning had been acting in this post for a period exceeding the permitted 6 months, contrary to Chapter 4.3.1 of the County Government of Taita Taveta Recruitment and Selection Policy, 2020 which provides that an officer may be appointed in an acting capacity for at least thirty days but not exceeding six (6) months.